If your workspace receives a huge footfall, you know keeping the area clean can be quite a task. Businesses that operate in larger working areas need their floors cleaned more frequently than others. This can include warehouses or industries with giant manufacturing plants as well. Untidy workspaces are psychologically perceived as lazy and can demotivate your workforce. Moreover, a spill or a mess left unattended can lead to potentially fatal hazards in chemically and mechanically sensitive workspaces.
Proper hygiene and cleanliness are two essential virtues of any well-maintained workspace.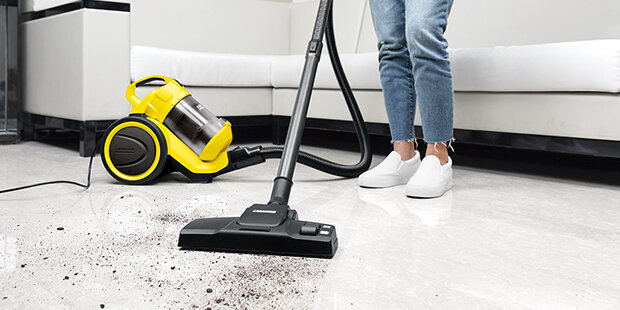 Commercial floor scrubbers help a workplace stay clean with minor efforts and thus improve a place's productivity.
The following are some of the main benefits of using floor scrubbers in your business:
Cleans Better and Faster:
A good floor scrubber is robust enough to clean even the most stubborn dirt and grease stains. It combines the power of detergent chemicals with some water to make a cleansing solution. This solution not only cleans the floors better than plain water but also makes for a lesser slippery application.
Dries Faster:
A floor scrubber cleans efficiently but also cuts down the drying time. How? Let us explain; when you go for the traditional bucket-and-mop, you leverage more water than a floor scrubber does. A floor scrubber uses the resource judiciously, providing an eco-friendly cleanup. It uses very little water and, thus, reduces the time needed to dry the floor off. This means your customers would not be at risk of slipping and falling. Moreover, your employees won't have to wait long to resume functions in the area.
As a business owner, the safety of your employees and customers is paramount. Not maintaining a safe floor to walk on can land you in serious court visits if someone slips and gets injured.
Easy to use:
Although a mop and a bucket are pretty straightforward, and most people are accustomed to using the duo, learning to use a machine like a floor scrubber isn't tricky either. You would choose whichever setting you want it to operate on.
Moreover, a scrubber can be operated standing as well as sitting. You could pick a push-on scrubber, or if you would like to be sitting, there's a ride-on substitute.
Lesser manual labor:
A primary advantage of using machines for cleaning is that your manual labor and, hence, costs would be reduced. This is perfect for entrepreneurs who operate small businesses on crunched budgets. One way to go about it would be to employ people whose only job is to maintain the safety and cleanliness of the place around the clock. Most industries have in-house administration controllers who are also responsible for workspace hygiene.
However, it could be quite a handful even with people taking care of the job. Your workforce may be unable to promptly clean up some oil spills or greasy residues. Delays can be dangerous in some industries and may even hamper business. This is why there is a need for optimal equipment for keeping your grounds clean. A floor scrubber can help with that.
Works on all types of floors:
A scrubber is effective, be it a hardwood floor, concrete floor, or tiles. It will remove the problem from its roots and leave behind a spotless room.
Scrubber + Sweeper duo:
Some products combine both benefits and can be used to improve cleanliness. They won't just sweep and scru butl also vacuum the larger dirt particles.
Low-maintenance: A device's maintenances largely depends on the operator and his respect for the machine. That being said, floor scrubbers are hard to ruin. A floor scrubber is a one-time investment, provided the quality is top-notch. Usually, a good floor scrubber would go on for 3 to 5 years without needing a repair. Moreover, they are durable machines and highly unlikely to break. You would also get a 2-year warranty to bring in your purchase for repairs and checks during the coverage period with certified buyers.
Today, you will find a broad range of scrubbers, sweepers, and more cleaning solutions fit for businesses which will get the floor cleaning work done smarter and faster. Whether you want to use a ride-on motorized sweeper or seek a simple push-behind scrubber for your commercial vacuum-cleaning business, no matter what you choose, these floor sweepers can raise the efficiency of your cleaning team and enhance the overall productivity of the operation.